So yeah, I haven't done a book review since last fall. Shame on me, shame on me. I was planning on doing one for the Kitty Norville series by Carrie Vaughn, but I sped through that series so it was hard to go back to the beginning once I was finished. I feel like it's going to be the same for The Hollows series by Kim Harrison that I'm currently reading. Either way, I'm doing this one now so that's all that matters!
---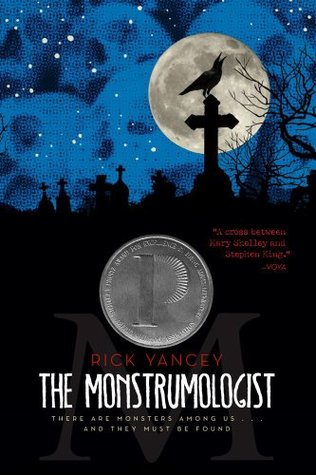 Goodreads synopsis:
These are the secrets I have kept. This is the trust I never betrayed. But he is dead now and has been for more than forty years, the one who gave me his trust, the one for whom I kept these secrets. The one who saved me . . . and the one who cursed me.

So starts the diary of Will Henry, orphaned assistant to Dr. Pellinore Warthrop, a man with a most unusual specialty: monstrumology, the study of monsters. In his time with the doctor, Will has met many a mysterious late-night visitor, and seen things he never imagined were real. But when a grave robber comes calling in the middle of the night with a gruesome find, he brings with him their most deadly case yet.

A gothic tour de force that explores the darkest heart of man and monster and asks the question: When does man become the very thing he hunts?
This review will be centered on the first book in The Monstrumologist series by Rick Yancey, The Monstrumologist. This one has been on my TBR list for awhile. I'm fairly sure I found it through my good friend Emily, because she highly recommends this book whenever it is brought to attention. So, although I'm not sure if you ever directly recommended it to me, thanks Emmy! xD On to the review!
---
My Rating:
4/5 stars
As you can tell from the above rating, I ended up enjoying this book. However, it was a bit slow-going in the beginning. But that tends to happen in many books when the author is trying to get you more familiar with the main characters. The writing style was a bit different than what I'm usually accustomed to, but it fit very well with the time period of the story. I thought at first it was a bit 'mature sounding', being in the POV of a twelve-year-old, but then I had to remind myself it was actually Will Henry telling the story as an adult. Either way, it quickly grew on me. Although, it makes me curious about the writing style of The Fifth Wave series. I have yet to read the series,  but since it's written by the same author I may give it a go sometime in the future. It's in a different time period and, obviously it's a different plot, but I wonder what similarities the two series might have.
Despite it starting out a tad slow, as more characters are introduced the plot steadily picks up until it's non-stop action. Speaking of characters, the two main characters in the story are Dr. Pellinore Warthrop and his assistant, twelve-year-old Will Henry.
Warthrop is a monstrumologist – he studies monsters, as did his father, his father's father, and so on. He's a genius but, like many who claim to be the same, he's a bit on the odd side. He's ambitious and can tend to be rather cold and uncaring to those around him. He see's Will Henry as only his assistant and most of the time ignores the fact that he is just a child. However, by the end of the book the reader does catch a few glimpses of his softer side.
Will Henry was orphaned about a year before this story takes place. His father was Warthrop's previous assistant, so that is the only reason he came to live with the doctor. He has been training as the doctor's assistant since then. He's rather intelligent, yet fairly timid. He tries his best to do everything Warthrop wants him to do – it makes him happy to be able to please the doctor –  but Warthrop isn't the easiest person to get along with so sometimes it's quite difficult.
Another character that pops in about halfway through the book is Jack Kearns. He's a fellow monstrumologist. He is described as boyishly handsome and he usually always has a smirk playing across his lips. Most of the time he acts as if everything is a joke. Although him and the doctor are in the same line of work, Kearns' morals aren't quite the same as Warthrop's.  Where Warthrop would rather save a life, Kearns wouldn't hesitate to sacrifice someone for his work. I really enjoyed his character.
There were a few other supporting characters that moved the story along and they all had their own important roles to play in the story.
Although this book is labeled as a YA novel, I wouldn't recommend this book to anyone that is squeamish. It has quite a few detailed scenes that can only be described as gory. Take in mind that it is labeled as horror as well. But if you don't mind that, then give this series a try! It was a bit different from what I usually read, but with the unique collection of characters and a plot that takes its time at the beginning but picks up towards the middle and finishes strong at the end, it was overall an enjoyable read for me. I'm looking forward to reading the next three in the series!
Happy reading! :)