WWW Wednesdays is a weekly bookish meme formally hosted by MizB of A Daily Rhythm, and revived by Sam of Taking on a World of Words. This meme consists of answering the following three questions:
What are you currently reading?
What did you recently finish reading?
What do you think you'll read next?
---
►What am I currently reading?◄
I am currently reading the third book in the Jack Daniels mystery series by J.A. Konrath, Rusty Nail. I mentioned yesterday in my TT post that I'm really enjoying this series so far. I like the main character a lot and I also enjoy that the POV switches between Jack and the killer – it's been like that for each book so far. It actually kind of reminds me of the TV show Criminal Minds, because that show also likes to focus on the audience already knowing who the killer is before the main cast does. I find it slightly ironic that I think that, however, because there are two FBI profiler's in this book but they're…not all that bright, honestly. I definitely recommend this series for those seeking a thriller, though a warning, some descriptions can get rather graphic. I also picked up another M/M romance book, the first in the Wolves of Hunter's Rock series by Shelley Grayson, Shift. I'm about halfway down with it and so far it's an enjoyable read. It has fun characters and an interesting plot, although at the moment there are still a lot of unanswered questions, so I hope at least the majority of them get resolved by the end of the book.
---
►What did I recently finish reading?◄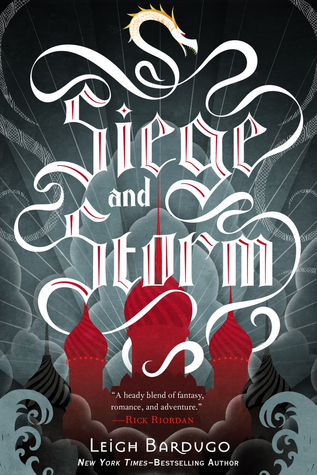 I finally finished the second book in the Grisha trilogy, Siege and Storm by Leigh Bardugo. It took me quite a while to wrap this one up. It's not that it wasn't good, other things just kept coming up. Also, I read my physical books at my second job and because that job is no more, I was reading my ebooks more often. That was a big part of it. This was a good second book to the series, but I did enjoy the first one a bit more. However, one of the characters introduced in this book quickly became one of my favorites. For those who have read this series, I'm sure you're more than likely aware of who I am talking about. Who doesn't like him? xD I
also finally got around to reading the eighth book in the THIRDS series by Charlie Cochet, Thick & Thin. This one was sitting in my carousel on my Kindle app for quite some time. I don't know why it took me so long to get to it. I think it's because I only have one more book until I'm caught up in the series and I don't want to have to keep waiting for the next one, honestly. It was such a short installment, too! I need to go buy the ninth one, pronto. Above I stated that I'm reading the third book in the Jack Daniels mystery series and so obviously I read the first two in the series before I got to that one. Those would be Whiskey Sour and Bloody Mary. Once again, I'm really enjoying this series and cannot wait to keep plugging away at it.
---
►What do I think I'll read next?◄
This section is STILL the same as it was in my last WWW post…and the one before that. I'll be continuing the Grisha trilogy with the third and final book, Ruin and Rising by Leigh Bardugo. Hopefully I'll get around to reading that one a little quicker than I did the second one. I'll probably also keep picking up random M/M books because that's still what my mood has been recently.
---
What are you currently reading? Have you read any of the books above? Let me know in the comments!
Happy reading! :)