WWW Wednesdays is a weekly bookish meme formally hosted by MizB of A Daily Rhythm, and revived by Sam of Taking on a World of Words. This meme consists of answering the following three questions:
What are you currently reading?
What did you recently finish reading?
What do you think you'll read next?
---
►What am I currently reading?◄
I'm still plugging away at the thirteenth and final book in The Hollows series by Kim Harrison, The Witch With No Name. I'm not sure why this one is taking me so long to get through. I think my subconscious really doesn't want this series to end. But I'll get there, eventually. I also finally hopped on The Grisha bandwagon with the first book, Shadow and Bone by Leigh Bardugo. I just started it last night and I'm already halfway through. I'm really enjoying it and so far it's definitely living up to all the hype. Can't wait to keep on reading.
---
►What did I recently finish reading?◄
I've finished a few books since my last WWW post. I've definitely been in a MxM romance kind of mood, because all of the books I have finished recently fall into that category. I finished up The King's Men by Nora Sakavic, the third and final book in the All for the Game series. This one was in my 'currently reading' spot last time. This was a fantastic series and by the end of it I was emotionally drained. There was so much depth to all of the characters. I've never been a big sports fan, but the way Sakavic writes has you feeling as if you're one of the team and aching for the Foxes to win, win, win. And it's not all about the sport. Many of the characters have a troubled past and just being along for the ride as they
struggle with their own issues makes you emotionally invested fast. The romance bit comes a little later on. It's not really a part of the plot until the third book, and even then it doesn't play a large role in the series, but it definitely gave me the feels when it finally happened. Another book I completed was Shades of Gray by Brooke McKinley. This was a good, fairly quick read. I enjoyed both of the main characters, even if some of the things they did irritated me at times. There is definitely more fluff and feelings in this one, compared to the series mentioned above. This book also played with my emotions quite a bit, having me
never know if things were really going to work out in the end or not. I also read  Captive by Jex Lane, the first book in the Beautiful Monsters series. I mentioned this one in my TT post yesterday. Like I said, I quickly fell in love with this series. This book centers around the ongoing war between vampires and incubi. Sure, vampires are a rather common topic, but I've hardly read anything that really focuses on incubi, which was one of the reasons this book drew my attention. Lane's world-building is amazing and it's hard not to fall for her characters. I adore Matthew, the main character. The action is fast-paced and bloody, the sex scenes are steamy, and the humor is spot on. I'll remind people that this book is intended for mature audiences so steer clear if you're not okay with strong violence and detailed sex scenes. But if you are, I highly recommend this series!
---
►What do I think I'll read next?◄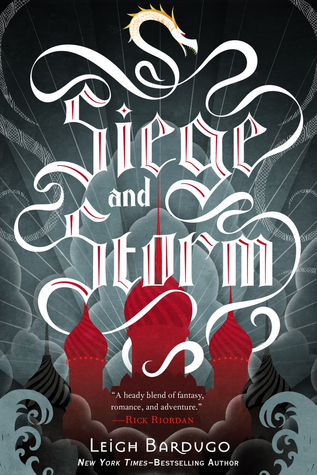 After I finish Shadow and Bone, I'll be continuing with the second book in the Grisha trilogy, Siege and Storm by Leigh Bardugo. I pointed out in my last WWW post that I'd also like to keep plugging away at re-reading The Dresden Files. And the eighth book in the THIRDS series is still sitting in my Kindle App waiting to be read.
---
What are you currently reading? Have you read any of the books above? Let me know in the comments!
Happy reading! :)