WWW Wednesdays is a weekly bookish meme formally hosted by MizB of A Daily Rhythm, and revived by Sam of Taking on a World of Words. This meme consists of answering the following three questions:
What are you currently reading?
What did you recently finish reading?
What do you think you'll read next?
---
►What am I currently reading?◄
Yup, I am still currently plugging away at the eleventh book in the Hollows series by Kim Harrison, Ever After. Once again I've become distracted by another series. Shame, shame. But I'll find my way back to this one soon. I've also decided to put a bit of a hold on reading, Grasshopper Jungle by Andrew Smith. I don't know what's wrong with me recently. Between Grasshopper Jungle and Stormdancer…that's two books now that I began only to put off. I rarely ever do that. Must have been in a reading slump or something. It's not that I didn't like them, I just…wasn't feeling it at this current point in time. I'll get back to both of them eventually.
---
►What did I recently finish reading?◄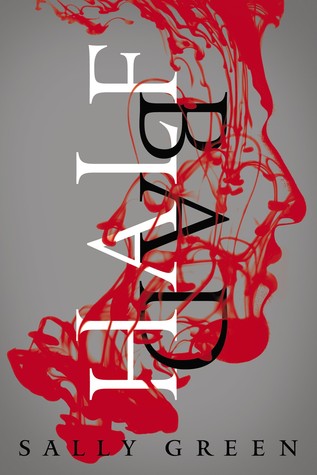 I recently finished reading the first book in The Half Bad Trilogy, Half Bad by Sally Green. I've been wanting to read this series for quite some time. And, due to my slight reading slump, I thought it would help. It did. I almost read the entire book before I decided I needed to sleep. I loved the characters, the plot, the writing style, the cover (al
though that's not really all that important)…pretty much everything. Two days after that I already had the second and third books from the library. I began and finished the second book, Half Wild, yesterday. It was just as good as the first, if not more so. I actually heard someone – FOX,  I think- already picked up the movie rights for this series. But, I've learned not to get too excited about that anymore. The books are always better. It would be really neat to see this one on the screen though.
---
►What do I think I'll read next?◄
I still plan on reading the twelfth book in the Hollows series by Kim Harrison, The Undead Pool. There was a long hold line for the e-book and I finally have it now, but since I haven't even finished the eleventh one I'm not sure I'll get around to reading this one before I have to return it. Hopefully there aren't too many holds the next round. I also plan on reading the third and final book in The Half Bad Trilogy by Sally Green, Half Lost. I have that checked out from the library as well, but I'm debating about starting it now or waiting until this weekend. I have things I need to get done today and tomorrow, then Friday I work all day. But Saturday I get off early and Sunday there's no work due to the holiday. So my dilemma is do I start it now and read it a bit more slowly, or do I wait for the weekend to just sit down and read the whole thing in one go? xD
---
What are you currently reading? Have you read any of the books above? Let me know in the comments!
Happy reading! :)