Shhhh! I know, I know. Once again it's Thursday, not Wednesday. But hey! I posted on Wednesday last week! I was very proud of myself. So let's just ignore the fact that it's Thursday, neh?
---
WWW Wednesdays is a weekly bookish meme formally hosted by MizB of A Daily Rhythm, and revived by Sam of Taking on a World of Words. This meme consists of answering the following three questions:
What are you currently reading?
What did you recently finish reading?
What do you think you'll read next?
---
►What am I currently reading?◄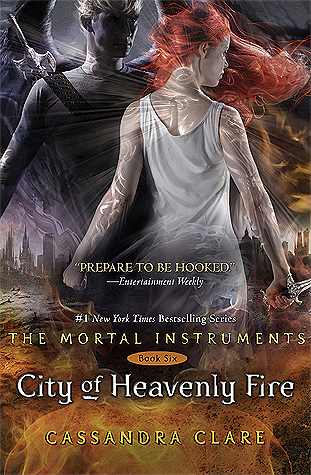 I am still currently reading the sixth and final book in the The Mortal Instruments series, City of Heavenly Fire, by Cassandra Clare. I would say I'm about halfway done? Maybe a bit more? I'm too lazy to go in the other room and check. Just trust me. I also started reading the third book in the THIRDS series by Charlie Cochet, Rack & Ruin. If you didn't check out my TT post I did yesterday (*wink wink*), then take a look! I did a funny teaser from this book. Gah, the characters. How I love them so.
---
►What did I recently finish reading?◄
I haven't finished reading any novels since last week, but I did finish the first three volumes of the manga, Blue Exorcist by Kazue Kato. I'm trying to remember if the anime follows this one well. I want to say it does so far, but it's been awhile since I've watched it so I may be wrong. Either way, finishing up these three volumes actually helped me accomplish my Goodreads Reading Challenge this year! Yippee! My goal was 60 books and I've read 61. I'm hoping to read quite a few more before the year is up. I was thinking about doing a larger goal next year but, with me going back to school, I'll probably keep it around the same, if not lower it down to maybe 50. We'll see.
---
►What do I think I'll read next?◄
I'm still going to read the other books I've been putting in this section for weeks now, but to change it up a bit I thought I would also mention that I'll be reading the eleventh book in the Hollows series by Kim Harrison, Ever After, as well as the fourth book in the THIRDS series by Charlie Cochet, Rise & Fall. These are both fantastic series that I've been reading as e-books and, as usual, I'm excited to keep plugging away at them!