Another tag! I was tagged by Emily @ embuhleeliest.  Although autumn is now coming to an end, I am going along with Emmy and being in denial. I do like winter but fall is my favorite season. Plus, it's still technically fall until mid-December. So there.
---
1) Are there any books you plan on reading over the Autumn season?
As I mentioned above, it is still technically fall so the book I actually plan on starting next week is the first in The Lotus War series by Jay Kristoff, Stormdancer. I won this book in a Goodreads giveaway and haven't gotten around to reading it yet. But now I am and I'm really looking forward to it! Plus reading the next two books as well. If I like the first one. But I probably will. Because I like most things that I read.
---
2) September brings back to school memories: what book did you most enjoy studying? And what were your favourite and least favourite school subjects?
This is kind of a tough one for me. I actually didn't enjoy reading the books we were given in school. I like reading what I want to read, not being told what to read. However, I did enjoy Of Mice and Men to a certain extent. I also read Dracula as well, although my version was not the original – it was a short-hand version so I feel like that's why I enjoyed it. My least favorite subjects in school were math and science. I mean, I found certain science subjects interesting, but they definitely weren't my favorite things to study. My favorite subjects lean toward the elective side. I like clay class, art, cooking. Those sort of classes. I actually enjoyed P.E. as well. I've never been all that active but I really enjoyed the people in my class.
---
3) October means Halloween: do you enjoy scary books and films? If so what are some of your favourites?
I haven't read all that many scary books. I don't really steer toward horror. I'm also a bit wimpy when it comes to scary movies. I used to refuse watching anything remotely horror, but over the past few years I've been more open to trying some out. I don't really mind watching the gory stuff – it's the sounds that get me. I could sit there and watch someone's arm being chopped off as long as I have my ears plugged. It's weird, I know. One of my favorite book series that fall under the horror genre would be the Demonata seriesby Darren Shan. Those books would be quite disturbing if made into movies, but I was perfectly find with reading them.
---
4) With November it's time for bonfire night & firework displays. What's the most exciting book you've read that really kept you gripped?
Fireworks in November? I want to be where that person is. Where I live November is a time to cherish the temperature not being up in the 100's anymore. And where anything below 60 is cold. xD
This is a tough question. Does it mean the most exciting book I've read in general or the most exciting that I've read this fall? I'm going to go with the latter. So, the most exciting book I've read that really kept me gripped this fall would have to be sixth and final book in the TMI series, City of Heavenly Fire, by Cassandra Clare. Mostly because it was the final book and I was really excited to see how things would end. Plus, a lot of stuff happened in that book in general anyway.
---
5) What book is your favorite cozy comfort read?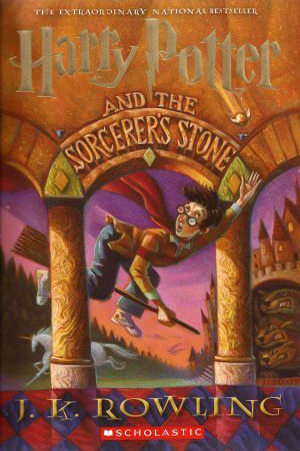 The first Harry Potter book, Harry Potter and the Sorcerer's Stone by J.K. Rowling. This is my favorite in the series and I'll never get tired of reading it. I can never get enough of the Harry Potter series and I don't think that'll ever change.
---
6) Curled up with a good book, what is your hot drink of choice?
Coffee. I love hot chocolate as well, but ever since I started drinking coffee I prefer that over any other hot drink.
---
7) Any plans you're looking forward to over the next few months?
Winter break. It's only my first semester back in school after three years and I already want a break. Too bad I still have to work during it. Ugh, life. Other than that I'm looking forward to the holidays! Happy Thanksgiving to those who celebrate! :D Also, we're moving into a new house within the next month or two! So that's exciting.
---
And I'm done! This was a fun tag and I tag whoever wants to participate!
Happy reading! :)