Teaser Tuesdays is a weekly bookish meme hosted by MizB of A Daily Rhythm. To play along just follow the rules below!
Rules:
Grab your current read
Open to a random page
Share two (2) "teaser" sentences from somewhere on that page (I usually do a bit more than two)
BE CAREFUL NOT TO INCLUDE SPOILERS! (make sure that what you share doesn't give too much away! You don't want to ruin the book for others!)
Share the title & author, too, so that other TT participants can add the book to their TBR Lists if they like your teasers!
---
I'm still plugging away at the sixth and final book in the TMI series, City of Heavenly Fire, by Cassandra Clare. I would have gotten more of it read last night, but I got caught up in reading the tenth book in The Hollows series by Kim Harrison, A Perfect Blood. I would have done a teaser from that book but I actually finished it last night. That's why I read that one instead of this one. It usually works that way with me, I'll be close to finishing one book so I'll ignore the other for a moment. BUT! I'll definitely be reading this one tonight.
My teaser: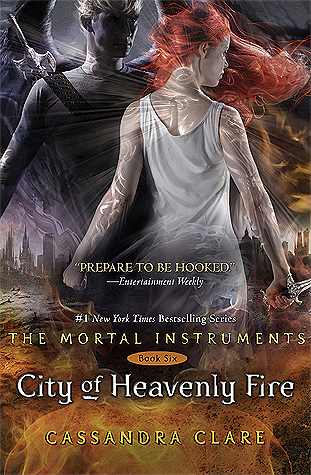 【"Alec–Alec!" The Consul's hands were on his shoulders. He was distantly aware of his parents running toward him. His vision swam with agony. Pain, overlapping and doubled because it wasn't his pain at all; the sparks under his rib cage didn't burn in his body but in someone else's.
"Jace," he ground out between his teeth. "Something's happened–the fire. You have to open a portal, quickly." 】
– Chapter 7, page 185 (paperback)