WWW Wednesdays is a weekly bookish meme formally hosted by MizB of A Daily Rhythm, and revived by Sam of Taking on a World of Words. This meme consists of answering the following three questions:
What are you currently reading?
What did you recently finish reading?
What do you think you'll read next?
---
►What am I currently reading?◄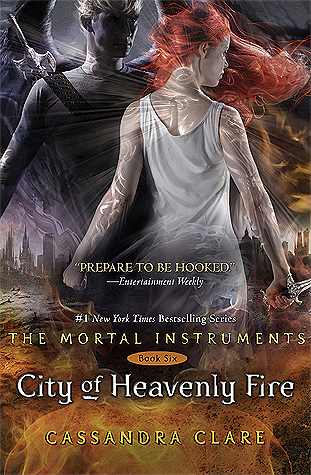 I am currently reading the sixth and final book in the The Mortal Instruments series, City of Heavenly Fire, by Cassandra Clare. I got a  good chunk of this book read last week, and now I'm roughly halfway through. It's getting really good and I can't wait to see how Clare finally wraps things up with this specific plot, since obviously the story continues in the sequel series, The Dark Artifices. Even though that one is focused on different characters. But either way, I'm still excited!
---
►What did I recently finish reading?◄
So, in just a few short days, I managed to start and finish reading the tenth book in the Hollows series by Kim Harrison, A Perfect Blood. At one of my jobs – when it's on the slow side – I usually sit and read on my phone. That's the reason I finished up this one so quickly – it was pretty darn slow at work. Plus, this was another great installment to the series so it kept me wanting more! I know I say that about almost every book in this series, but that's because it's true! I'm really excited yet sad that there happens to be only three more books in the series. I can't wait to see how Harrison wraps the story up, but I'm definitely going to miss all of the characters. But I won't think too much on that yet! Like I said, I have three more books to go before the end!
---
►What do I think I'll read next?◄
Alrighty, so I still plan on reading Harry Potter and the Cursed Child as well as Stormdancer by Jay Kristoff, but I've also decided I'm going to start reading the manga, Blue Exorcist too. Reading  Natsume's Book of Friends by Yuki Midorikawa got me in the mood to read some more manga and I've been meaning to read this one for awhile. I watched the anime a few years ago but, just like novels turned into movies, the manga is usually better than the anime. Plus the manga's still on-going and the anime stopped, so you know the ending isn't right. ALTHOUGH, I did hear that a second season is coming out for this one next year. I'm super excited!