Teaser Tuesdays is a weekly bookish meme hosted by MizB of A Daily Rhythm. To play along just follow the rules below!
Rules:
Grab your current read
Open to a random page
Share two (2) "teaser" sentences from somewhere on that page (I usually do a bit more than two)
BE CAREFUL NOT TO INCLUDE SPOILERS! (make sure that what you share doesn't give too much away! You don't want to ruin the book for others!)
Share the title & author, too, so that other TT participants can add the book to their TBR Lists if they like your teasers!
---
Alrighty then, I have finally hopped on the Rainbow Rowell train and began reading her novel, Fangirl, yesterday. So far I'm really diggin' it and I can't wait to read some more tonight at one of my slower-going jobs. I would have probably read more today but I began a summer online class and that's definitely going to be keep me busy for the next month. Oh joy.
My teaser: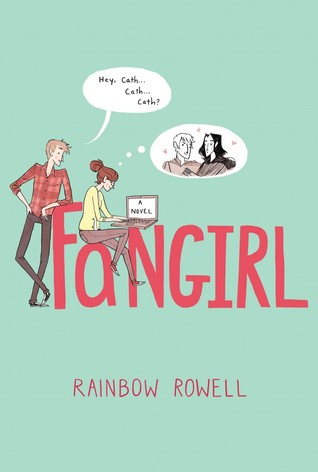 【If Wren knew how upset Cath was right now, she wouldn't be a bitch about it. She'd understand. She'd tug Cath back from the edge – Wren was really good at that.
If Wren were here… Cath laughed. It came out like a sob. (What the eff, she thought, why is everything coming out like a sob?)
If Wren were here, she'd call an Emergency Kanye Party.】
– Chapter 11, page 136 (e-book)