WWW Wednesdays is a weekly bookish meme formally hosted by MizB of A Daily Rhythm, and revived by Sam of Taking on a World of Words. This meme consists of answering the following three questions:
What are you currently reading?
What did you recently finish reading?
What do you think you'll read next?
---
►What am I currently reading?◄
I am still slowly plugging away at the sixth book in The Hollows series by Kim Harrison, The Outlaw Demon Wails. I've been really into reading my physical books instead of my e-books recently, so I feel like this one might take awhile. As I mentioned in my TT post yesterday, I began the fourth book in the The Mortal Instruments series, City of Fallen Angels by Cassandra Clare. I'm liking it so far. Mainly because it's focusing a lot more on Simon in this one and honestly I prefer him over Clary as a main character.
---
►What did I recently finish reading?◄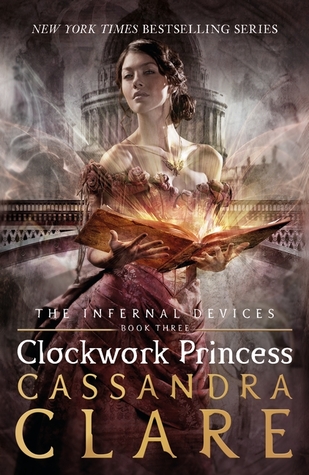 On Monday night I finished up the third and final book in the Infernal Devices series by Cassandra Clare, Clockwork Princess. Gahhh, my emotions. I'm pretty sure I've mentioned before that I may get a tad...fairly… pretty darn emotional when it comes to books and movies. But rarely do a seriously cry. Normally I just get a bit teary-eyed and move on. At the end of this one, however, I was sobbing *no shame*. Legit tears running down my cheeks. It could also have to do with some family things that had happened not too long ago, but even if they hadn't I'm pretty sure I would have still cried. If you've read this series you know what I went through…unless you're not a crier. Either way, this was a great series and, as I mentioned before, I prefer this one to the original. Don't get me wrong, I still enjoy the TMI series, but this one is just…I don't even know. I just really liked it. So, make sure if you're a fan of the TMI series, you go read the prequel! It's fantastic.
---
►What do I think I'll read next?◄
I still have Aristotle and Dante Discover the Secrets of the Universe by Benjamin Alire Saenz on hold at the library. I'm still in the exact same place in line as I was last week. People need to hurry up. Please…?
Happy reading! :)