I just want to say a quick sorry that things have been slow on my end recently. Last week was busier than usual so I didn't even get a chance to post for Teaser Tuesday or WWW Wednesday… D; But, things have calmed down a bit so I'm working on book reviews, since this isn't the only one I have to do, and a few other things as well. So expect a bombard of posts from me in the next couple of days!
---
NOTE: I received a free digital copy of this book from the author in exchange for an honest review.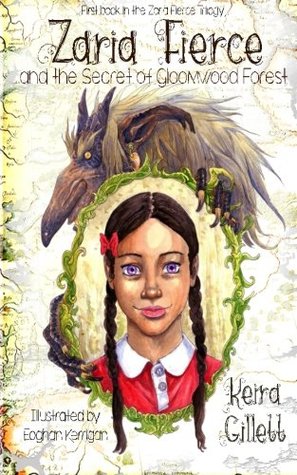 Goodreads Synopsis:
On her birthday, Zaria Fierce finds her usual path to school blocked by an ugly river-troll. At first she's surprised and curious, but then Olaf threatens to eat her, which is an act Zaria could not in good conscience consent to, so Zaria counteroffers. A deal is struck and she goes to school, but Zaria is about to learn the hard way that one does not trick a river-troll and expect to win.
This review will be on Zaria Fierce and the Secret of Gloomwood Forest by Keira Gillett. After reading the review on this book by Analee @ Book Snacks, I added this book to my TBR list on Goodreads. I have to say I was quite surprised when Keira sent me a message on Goodreads, asking if I'd like to read her book in exchange for a review. This was the first time an author has approached me so I was definitely excited, if not a bit nervous! But anyway, on to the actual review!
---
My Rating:
4/5 stars

The plot in this story focuses on 13-year-old Zaria as she travels far from home in order to rescue her best friend, Christoffer, from a river-troll. Accompanied by three of Christoffer's other friends, she runs into all sorts of mystical creatures she never knew existed. The story is fast-paced and filled to the brim with action. If you're looking for an action-packed adventure dipped in fantasy, look no further. This book kept me on my toes with its many cliffhangers and plot twists; it was quite hard to put down at times. Plus, I'm all about fantasy stories and this one definitely wasn't lacking in that department.
As for characters, Zaria was a fantastic main one. She was a bit more timid at first, but as the story went on she opened up and became more confidant in herself. She knows how to think on her feet in difficult situations and shows empathy towards others while her companions don't. The three boys that joined her on her quest are also enjoyable, having accepted her as part of the group and always doing their best to keep each other safe. However, I do wish there was a bit more distinction between them. All three of their personalities seemed rather similar so that sometimes I wasn't able to tell who was saying what during conversations, unless it stated who was talking.
Gillett's writing style was superb. It flowed well, was descriptive in all of the right places, and her use of dialogue was great. Although at times I felt like the way the kids spoke was slightly odd. Maybe because I wasn't that mature at thirteen? xD Also, there was one part where I felt it might not have been entirely realistic. MINOR SPOILER AHEAD. At one point the group was being chased but then had to stop and fight, having been given weapons by an older character. They were able to use the weapons a bit too well, in my opinion. If, having never used one before, someone had handed me a bow and arrow at thirteen I wouldn't have been any help at all. That's just my opinion. However, they didn't have any time to sit there and learn how to use the weapons, so I suppose it's understandable in that situation. SPOILER ENDED.
Overall, this was a fantastic read with likable characters and an engaging story line. I am most definitely looking forward to reading the second book in this series. There is going to be one, I hope! Otherwise I would be very sad. If you're looking for a fun, easy read filled with fantasy check out Zaria Fierce and the Secret of Gloomwood Forest!